Nooteboom Special Trailers since 1881
Nooteboom Trailers B.V. is a leading international company offering their customers innovative and complete solutions for abnormal transport. Nooteboom designs and builds trailers of the highest quality with a payload of 20 to 200 tonnes. The product range includes semi-trailers, low-loaders, drawbar trailer and semi low-loaders. Every Nooteboom trailer has an excellent price-quality ratio thanks to the low total cost of ownership. Quality, reliability and the greatest ease of use are also paramount.
By continually investing in the best solutions for their customers Nooteboom is characterised by pioneering innovations in special transport. Because it is deeply ingrained in the DNA of Nooteboom to continually surprise their customers with ground-breaking innovations. As they did in 2015 with the introduction of the new MANOOVR semi low-loader, for which Nooteboom received several prestigious awards such as the ESTA Award and the RAI SV Innovation Award.
News
Sobanscy Transport – Megatrailers Light and Low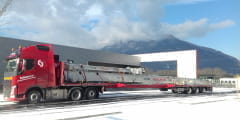 In 1989 Ryszard Sobanski started a small transport company in Glowczyce, near the Baltic Sea coast. The company was extremely well organised and grew fast. In 2014 their 50th commercial vehicle hit the road and in 2016 the 100th employee was taken on. 2017 brought another milestone because in that year a separate department for abnormal transport was established. During the past year Nooteboom delivered as many as eleven new trailers for this new activity of Sobanscy. Read more
Affolter Transporte AG – Like a Swiss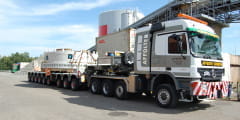 Affolter Transporte from the Swiss village Schüpfen has an ultra-modern fleet for abnormal transports. However, the heavy combinations of Affolter are rarely seen on the European motorways and they only visit the ports of Rotterdam, Antwerp or Hamburg sporadically. Switzerland has a special place in Europe. It is not a member of the EU, but it is positioned as a sort of island in between the member states of the EU. The area Affolter Transporte operates in is the 'Mittelland'. This is the undulating, partly flat plateau between Lake Constance and Lake Geneva. an interview with Rudolph and Ernst Affolter. Read more
TAHOGRAF started as Nooteboom Service Center for Croatia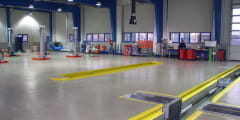 TAHOGRAF d.o.o. from the Croatian Sveta Nedeljais started in March this year as a Nooteboom Service Center. Our new service partner is a privately owned company, established more than 60 years ago and is strategically located near Zagreb, just 5 minutes from the important main route A3 / E70. TAHOGRAF has a very modern equipped workshop and specialized engineers with extensive knowledge and experience in hydraulic systems. As an authorized dealer for various brands of trailers, they have many years of experience in the maintenance, service and repair of trailers. Read more
Parts Outlet Store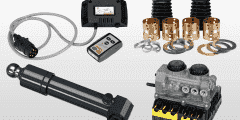 Nooteboom Outlet Store is the place to find great products at discounted prices, with new items being added regularly. These offers are valid as long as the stocks last. Visit the Parts Outlet Store
The manufacturing industry is alive and well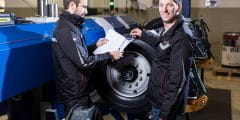 The manufacturing industry is alive and well! Due to the international orientation, drive to innovate and distinctive qualities, Dutch products are popular all over the world. This goes for the offshore industry as well as the production of vehicles. Nooteboom is the only trailer manufacturer that has been in the top 100 of best performing manufacturing companies in the Netherlands for many years. Read more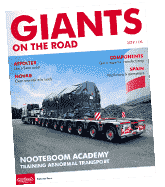 Magazine
Nieuw! NoVAB 3.0 Cloud
Meanwhile Nooteboom has developed the latest generation NoVAB: Nooteboom 3.0 Cloud version. This latest NoVAB offers important improvements and advantages. Selecting the right tractor-trailer and calculating how the weight of the load is distributed over the various axles is now even quicker and easier. You can also specify whether one or several axles are to be lifted. With the push of a button the optimal load position, to prevent exceeding the maximum axle load, will be calculated. This will tell you in advance whether the complete combination with its load complies with the maximum axle loads that are permitted within a specific country.
Nooteboom

Trailer Service