SPECIALS

In addition to the multifunctional trailers for abnormal transport, Nooteboom also supplies SPECIALS: transport concepts specially designed for one particular application. These groundbreaking transport solutions are fully optimized for one single purpose and therefore are not part of any existing category. Precisely because these trailers are so specific and effective they are used all over the world. The Nooteboom SPECIALS are all designed to reduce the total logistical costs of certain projects.
Transport for wind energy
Nooteboom has been closely involved in the development of windmill transport ever since the advance of wind energy in 1990. Nooteboom, as a pioneer, has introduced many innovative and cost-saving transport concepts for companies such as Vestas, Enercon, Siemens and DegMicon.
A good example is the exchangable load floor with insert adapters for the transport of nacelles on low-loaders and modular trailers. This makes it possible to load/unload the cargo without using a crane. The same also applies to the tower piece adapters, which can carry tower sections with a large diameter without a load floor on low-loaders and modular trailers.
With the SPECIALS Nooteboom responds to the trend towards larger windmills. The current SPECIALS programme includes:
The MWT MEGA WINDMILL TRANSPORTER for the safe and efficient transport of larger tower sections as well as nacelles
The SWC SUPER WING CARRIER to transport extremely long rotor blades (up to 70 metres long) over the road.
Other applications
Nooteboom likes to think along with you about new transport concepts, also for applications other than windmill transport. If you have a specific question, please contact us.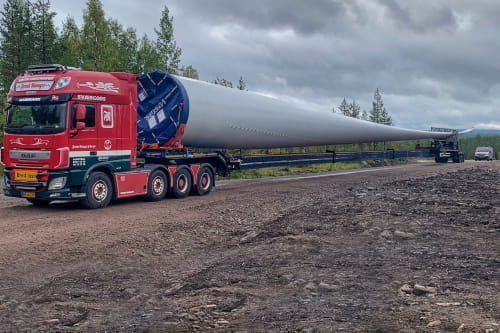 SUPER WING CARRIER
The Nooteboom SUPER WING CARRIER is specially designed to transport extremely long windmill rotor blades by road in a handy and efficient way. In order to generate more power the windmills are getting bigger and bigger. And the rotor blades are getting bigger and longer too, measuring up to 70m in length. Conventional extendible semi-trailers are no longer a practical option. The SUPER WING CARRIER is internationally extremely popular for the transport of rotor blades that are 50m long or longer.
Read more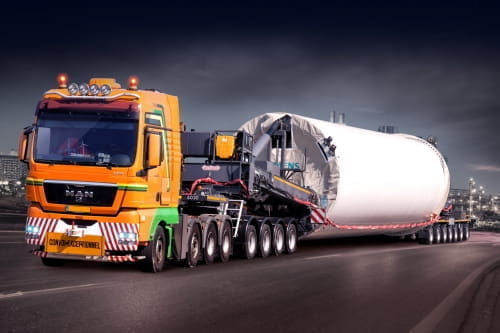 MEGA WINDMILL TRANSPORTER
The Nooteboom MEGA WINDMILL TRANSPORTER is a unique and universal transport concept, specially designed for the transport of tower sections and nacelles of large windmill installations up to around 3 Megawatt. The MEGA WINDMILL TRANSPORTER adds a new dimension to windmill transportation because of the size, load capacity and manoeuvrability and, more importantly, the reduced operating costs. The MEGA WINDMILL TRANSPORTER is by now used around the world and regarded as the ultimate logistic concept for large tower sections and nacelles. The Nooteboom MEGA WINDMILL TRANSPORTER MEGA Windmill Transporter consists of two hydraulically extendible lift-adapters that can be employed on various vehicle types. During transport the load is clamped between the lift adaptors so that a load floor is not needed. At the front the lift-adapter is usually coupled via a turntable to a 3-axle or 4-axle Nooteboom Jeepdolly. The rear lift adapter is usually coupled via a turntable to a 7-axle hydraulically-steered Nooteboom NLD self-steering dolly.
Read more